Restaurants & Bars
In the restaurants of Catalonia Santo Domingo you'll find the best combination of quality and taste. Enjoy delicious dishes and the most authentic atmosphere in our restaurants, bars and snacks.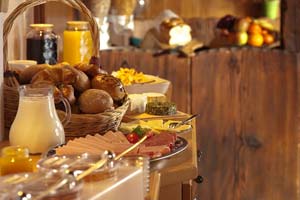 BUFFET RESTAURANT
Full breakfast buffet with a variety of Local fruits, cheeses and sausages, freshly baked pastries, selection of dietary and gluten free products. A special Nespresso coffees menu. 
Monday through Friday: 6:30 a.m. to 10:30 a.m.
Saturday to Sunday: 7:00 a.m. to 11:00 a.m.
FIVE HUNDRED SNACK BAR
Wide selection of local and international drinks, with wide range of pizzas, Spanish tapas, select cut of meat, fish, desserts and wide selection of coffees. Large screen TV to enjoy sporting events and variety shows.
Monday to Sunday: 6:30 a.m. to 02:00 a.m.
POOL BAR
Located next to the pool on the seventh floor, with a stunning ocean view to enjoy delicious cocktails and snacks.
Monday to Sunday: 10:00 a.m. to 6:00 p.m.
FILIGRANA RESTAURANT
Available for lunch and dinner a la carte, located on the fifth floor offers a magnificent ocean view with panoramic windows. Exquisite menu to please the most discerning palates. Steak, fresh seafood and typical Spanish rice produced mostly in authentic charcoal grill. Cuisine with indigenous product quality. 
 
Monday to Sunday: 12:30 p.m. to 11:00 p.m.
PEARL URBAN LOUNGE
It is an area of fun, music, fashion, relaxation and of course the best of international gastronomy. To the Mediterranean gastronomy we add a Caribbean twist, provoking a party of flavors unequaled. In addition, Pearl Urban Lounge has a great variety of cocktails, created by our expert mixologist. In the Urban Pearl you can enjoy a good drink with a view to the sea.
24 HOUR ROOM SERVICE
Salads, sandwiches, fish and meat and a selection of typical Spanish tapas and pizza.